Mmm... admire Rogue! I have actually now completed this sleeve and am well on my way with the second one. Unfortunately, I made that timeless mistake of knitting during Lost. And "lost" track of what row I was on. Consequently I ended up with a squat mystery cable that was very hard to rip back. Luckily, The Boy was on hand to fix it. I also runied an attempt to do a
Luckenbooth medallion
in the pub. Some days I hate knitting.
Which is a shame as I have a family knitting legacy...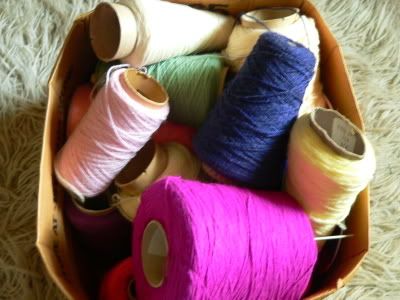 I inherited this lovely box of wool over the weekend. It's a real mixed bag - mostly 4ply acrylic/wool blends and very dusty - but I feel compelled to make beautiful things with it. I think Fair Isle mittens and socks might not be a bad idea and intend to procure a copy of
Folk Mittens
from the library this afternoon.
And the new Magknits is up! None of that foo foo weirdness from Knitty... just lovely and rather practical things.
My favourites:
Mmm... socks.



Gorgeous
Melissa
does it again with her phenomenal patience for fiddly wool and small needles. I don't think I can stretch to cashmere for this one sadly.
Right, back to the grind. And then home, to a poorly Boy and the second sleeve of Rogue, who has declared herself a one woman knit and not something to attempt during any sort of conversation :)