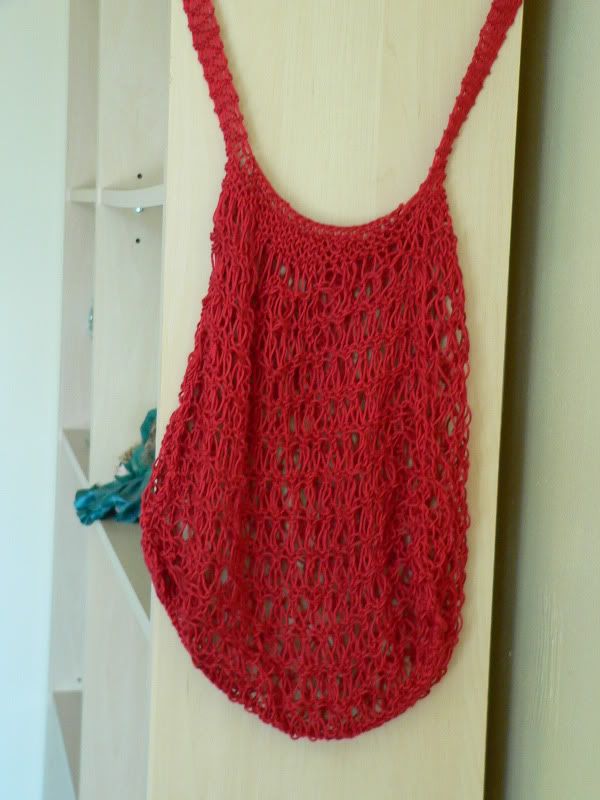 I'm back... with a FO as well!

Well, I did intend to tell my knitting buddies that I was off to sun myself in Jamaica for a week. I really did. But rather than spark jealousy and unrest, I slunk off quietly with a bottle on tanning oil and a ball of Paton's cotton and came back with the Saturday Market Bag from Magknits.

It is essentially one of the fastest knits in the West - each side is only 24 rows. However, I tried to knit this one on the plane with my Denise Interchangeables and the combination of shiny smooth cotton and resistance-free plastic needles left my precious work slipping and sliding through the turbulence.

I also misplaced the pattern when it came topicking up stitches around the top and forming the handles so I pretty much winged it. I am fairly happy with the results and can certainly see myself making a couple more of these beauties. I used it today to do my shopping and was more than a little pleased with the capacity.

So here's a synopsis...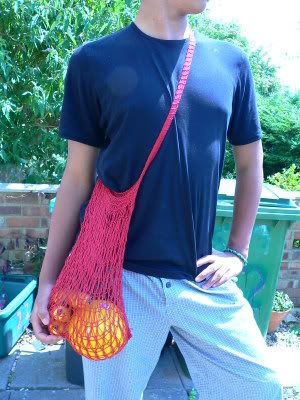 Gratuitous modelling pic provided by Chris Dudley and the contents of Mum's fruit bowl :)
Pattern: Saturday Market Bag by Jodie Dannenberg
Yarn: Paton's 100% Cotton DK in Tomato, just under one ball
Needles: Denise Interchangeables, 10mm for body, 6mm for garter stitch top and 4mm for the straps
Time taken: Not long when actually knitting, could have been completed in about 2 hours if not for screaming babies and turbulence!
Modifications: They snuck in. I should probably have gone down a needle size in the first place but really couldn't be bothered to dig out the case so I just soldiered on. Consequently, a few stitches slipped off the needles and ended up being replaced in the wrong order. When I began knitting this, it looked a hot mess anyway so the mistakes eventually blended in... sorta. It hasn't effected the functionality of the bag but I can see them... here's a close up of the pattern as it should look.
Finished dimensions: Difficult to truly gauge! It's easier to think of it in terms of capacity - I managed a cantaloupe melon, 6 bananas, a bag of pears and a couple of tins with room to spare.
I can see me making a few of these as Christmas presents!