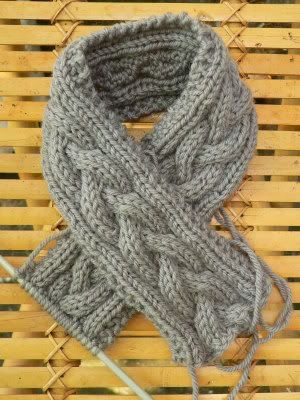 I couldn't wait to get started on my new toasty winter cape. Yes, I am aware that it's about 30 outdoors, but it certainly won't be in a few months time and I'd rather be enveloped in soft grey cables when that time arrives.
I started with the scarf part - I tried somethingelaborate as a homage to the original but realised the scarf was ending up too big to enjoy knitting. Instead, I opted for a simple braided cable, reminiscent of the one from
Coronet on Knitty
. It grows rather speedily and I intend to make it rather long so I can swish it over my shoulder in knitted superiority.
I have started to think about the cape itself - I have decided that I definitely want a fat double cable along the center back
and some smaller braided cables.... and a couple of stockinette panels... I'll scan the sketches later.
In the meantime, I found Leroy asleep on my desk with a ball of Rowanspun on his head...