Let me start with Greetings from Knit Cafe. Suzan Mischer might be the luckiest woman in the world, having made a livelihood for herself owning a beautiful cafe filled to the brim with knitters and their wares. The smug moo cow (in the nicest way) has decided to put together a book for those of us whose serene knitting stretches to a whole end of the couch, but only if the cats permit.
Valerie Pearson's photography brings the book to life - a magical world where giant alpaca stockinette shawls are appealing, affordable AND practical... and where we have the figure to pull of a lacy knitted mini dress without looking like a Greenpeace rescue mission. Actually, that makes me sound bitter.
It's a beautiful book, full of slightly quirky, if impractical, patterns, helpful anecdotes and a couple of killer recipes for things that'll make your stint into wearing a figure hugging knitted dress even less successful. None of the patterns jump out at me but they're thirty basic patterns that could help the novice knitter in a jam. But it gets me in the mood for knitting, a familiar yearning for soft silk sliding through my fingers and neat rows of multi-coloured ordered stitches...
Is it getting hot in here?
On to Knitting Without Tears. I have been lurking over at
Zimmermania
to see what all the fuss is about. How can this woman lead so many?
The answer is simple. She needs no lavish photography, soft focus lighting and mindless pondering over fringing. She has the skills to pay the bills - no nonsense, friendly, slightly sassy advice on how to turn out just about any knitted project you could want in a single slender volume. I am intrigued by the prospect of knitting a seamless bottom-up raglan and as soon as
this ridiculous sock obsession called Socktoberfest
subsides, I'll have one on the needles.
As I become more confident with my knitting, I think I begin to subscribe to Zimmerman's stitching ethos - god quality materials, a dose of common sense and confidence that you can fix most things. Yarn does not have a self-destruct mechanism.
So, two welcome additions to my groaning book shelf.
And I broke the yarn diet again today.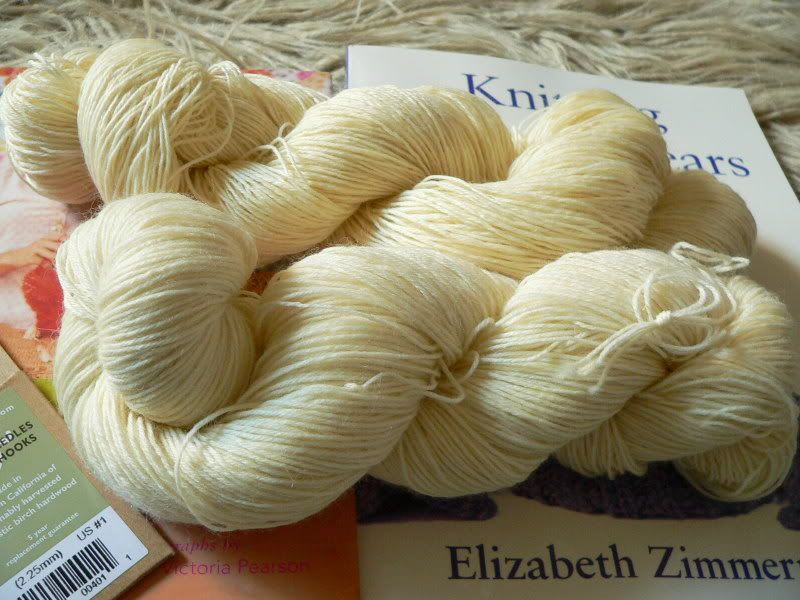 Two skeins of undyed Opal that'll be hitting the Kool Aid vats before this weekend is through. I was on the look out for some particular sock yarn but no one has gotten their rears in gear to create it yet. So it's up to me. The socks themselves will be Christmas presents, so I don't feel too bad about the purchase.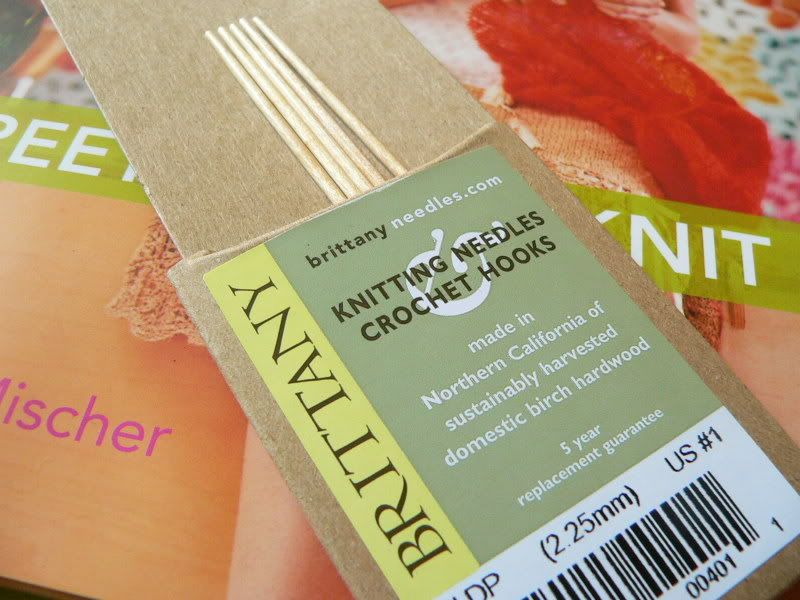 Also, many people have had great things to say about Brittany's birch DPNs and with the sock knitting frenzy that's going on here, I might need something to soften the blow on my delicate hands. Plus, I can probably sneak these onto a plane...
In other sock kit,
I have ordered a 12" Addi turbo as well
. I am not sure if I'll manage to use it but lots of people have had good things to say about them. My in-car knitting has been thwarted by the difficulty of watching stitches disappear off the end of the needle. Let's hope this will become a thing of the past.