A little Socktoberfest meme that everyone else on my blog roll has done...

When did you start making socks? Did you teach yourself or were you taught by a friend or relative? or in a class?
I learned all by myself, thanks to a handy leaflet with my 'How 2 Knit Socks' kit fromThe Woolly Workshop. I had put off doing it for some time - I had heard one heel-turning horror story too many and thought I'd never manage it.

What was your first pair? How have they "held up" over time?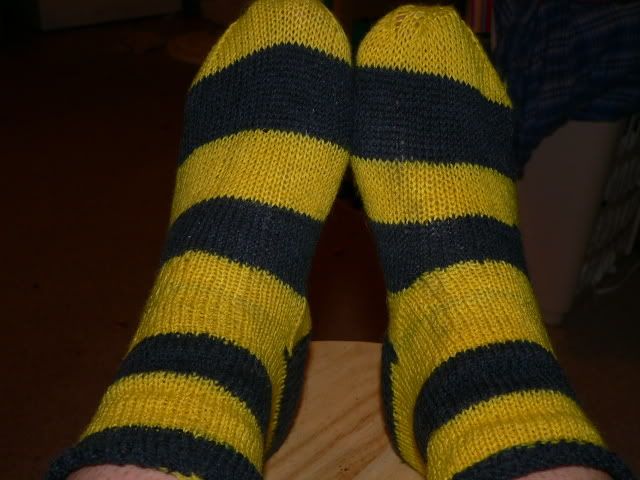 TA-DAH!

They haven't actually changed much to be honest. I love to wear them to pad around the house but also like wearing them at work, with no shoes, waiting for someone to ask where or why I got those natty socks.


What would you have done differently?

Started them a lot earlier in my knitting career.


What yarns have you particularly enjoyed?

I am yet to push the boat out and get some lovely Lorna's Laces Shepherd Sock, but I think that will be my favourite. Until now, the stuff from the Natural Dye Studio on eBay is rather yummy.


Do you like to crochet your socks? or knit them on DPNs, 2 circulars, or using the Magic Loop method?

Crochet? Knittah please. Have you seen the mess I make with a hook?

I have never tried using 2 circs because I actually enjoy using DPNs. I am going to treat myself to some birch ones at the weekend that should make the rest of Socktoberfest very pleasurable.


Which kind of heel do you prefer? (flap? or short-row?)

I like a heel flap but tend to make a little mess with it. Having just done my first toe-up heel flap, I think this might be the future.


How many pairs have you made?

I was very disappointed when I added this up - only four completed pairs. I have another two literally falling off the needles though and surely Socktoberfest is all about getting those numbers up?

So I'm off to cast off my first Widdershins and come back here to show y'all.